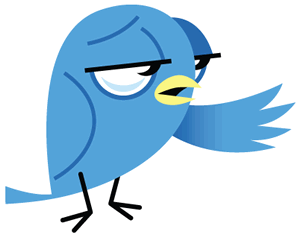 Tweets, Likes, and Shares Don't Make Us Buy Stuff, Americans Say
Most Americans say social media has zero influence on their purchasing decisions, according to the results of a Gallup poll published today. That may be welcome news to every small business owner who thinks that managing a Facebook (FB), Twitter (TWTR), or Pinterest account is too time-consuming, distracting, or otherwise confangling to be worth the effort.
Only 5 percent of Americans said social media has a great deal of influence on what they buy, according to Gallup, which polled more than 18,000 U.S. adults for its new State of the American Consumer report. Thirty percent said social media has some influence, and 62 percent said it has no influence whatsoever.
Millennials reported being more swayed by likes and tweets than older generations, but not by much: Seven percent of those born after 1980 said social media has a big influence, and 43 percent said it has at least some effect on what they buy. Those numbers are based on polls conducted in December 2012 and January 2013 and published today.
The news could validate Main Street's skeptical regard for online marketing, an attitude that extends beyond social media to more basic strategies. More than half of small businesses don't even have a website, according to the Associated Press.
It's also possible, of course, that respondents to the Gallup poll underestimate the effect that the never-ending stream of social media posts has on them. "U.S. companies spent a combined $5.1 billion on social media advertising in 2013, and they obviously believe that this presents them with a return on investment," Gallup reported.
A Nielsen (NLSN) survey from last year suggests that social media can be a potent tool for small businesses. In that survey, respondents said they regard social media ads with a low level of trust relative to more traditional forms of advertising. But the same survey found that two of the most trusted types of marketing were word-of-mouth recommendations and consumer opinions posted online—both of which seem like short conceptual jumps from a Facebook or Twitter post.
By Patrick Clark | June 23, 2014 | Bloomberg Article
https://www.brainshine.com/wp-content/uploads/2014/06/sad-twitter.png
238
300
Blaise Nauyokas
http://www.brainshine.com/wp-content/uploads/2014/06/bs_logo-300x137.png
Blaise Nauyokas
2014-06-24 11:00:49
2014-06-24 17:28:44
Tweets, Likes, and Shares Don't Make Us Buy Stuff, Americans Say